Writing Training
Video scriptwriting courses conducted regularly at the National Film & TV School, having also been run over a seven-year period for London Media Workshops, and similar work for the Media School at Bournemouth University. Other training for MediaSkill in Newcastle, Tyfle in Wales, Middlesex University, Royal Navy video units, British Gas Distance Learning Unit and the video industries in Denmark and Sweden, as well as
small-group and one-to-one coaching for industry professionals.
Radio writing training conducted for BBC English producers and a script-editing guide written.
Management Training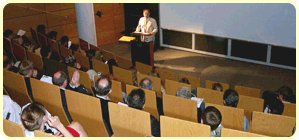 Specialisation is in personal communications skills, such as presentations, writing, and running meetings. Training is tailored to the specific needs of the client, and usually conducted in one- or two-day courses, but also as consultancy, and one-to-one coaching, including for individual conference speakers.
Clients for communications skills training have included:
Arthur D. Little
BAE SYSTEMS (formerly GEC-Marconi, 126 courses to date)
Hanson Products
Lloyds TSB Group (146 to date)
NSK Europe
In addition, a series of 126 management courses was run for The OCS Group 1986-2001. While these also included some on communications skills, the great majority were two-day general management seminars. At the initial level, these dealt with topics such as leadership, delegation, motivation, time management, planning and control. The follow-up course at a higher level dealt with the practical and combined applications of such skills, with groups working in teams.
Management training within a Business English language teaching context has been conducted in Germany
Broadcasting
In 2000 researched and co-presented ten-part BBC World Service radio series Joint Ventures.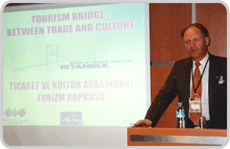 Presented 12 video elements and voiced a further 7 audio elements of the BBC World Service multimedia website Beyond The Postcard. Created Radio Postcard strand for Islamic Service magazine programme for domestic broadcast in Egypt.
Presented, as well as researched and wrote, two Geography programmes for BBC Schools Radio.
Presenting
Chairman until 2012 of the British Service Providers Association, a UK-based trade association that assists North American companies in transatlantic trade. In this role, presentations are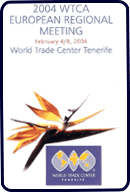 given regularly in both the US and the UK.
Membership of the South Carolina World Trade Center led to a series of presentations at international gatherings under the auspices of the Tourism and Cultural Exchange Committee of the World Trade Centers Association. Such presentations have been given in Charleston, Tenerife, Istanbul, Belgrade, Veliko Turnovo in Bulgaria, Geneva and New Orleans.
Other presenting includes the conference "Language and International Business Communication" (Düsseldorf), the WorldMediaFestival (Hamburg), and a seminar on Developing Quality Tourism (Cyprus).
Speaking
Engagements as an after-lunch speaker at luncheon clubs, with subjects ranging from writing to Nelson, and at local writers' clubs. Spoken on numerous occasions to Sherlock Holmes societies in the UK and abroad.