Film & Television
Seven original full–length feature screenplays are under consideration in several countries, and an eighth is in preparation. Six of the seven are historical dramas set in the UK and US in the 17th, 19th and 20th centuries. The seventh is an action adventure set in Europe in 1936.
The 2012 WorldMediaFestival Gold awarded to the maritime history documentary The Ship That Changed The World — M/S Selandia, continues a long line of awards at the Festival, being the sixth in seven years. First broadcast on Danish television May 2012, followed by broadcasts in Germany and France, and then another in Denmark in 2015.
Production completed in 1999 of a wide-screen film scripted for a theme park in the US.
Video and Multimedia
Two 1-hour narrative videos for Business English teaching courses, collectively titled "English Express" (British Interactive Multimedia Association award winner 1992).






Voiced as well as wrote all eleven audiovisual and film elements of a major Fleet Air Arm Museum exhibition, The Leading Edge.
Devised and presented 36-element BBC World Service multimedia website Beyond The Postcard for learning English. The series ran continuously for 15 years.
Radio and Audio
Thirty–five years' experience of both original writing and dramatisation including eleven single plays and one series for BBC Radio 4, BBC World Service and radio stations abroad. Also four major script projects - two series and two serials - for English Learning arm of the BBC World Service. Most recent broadcast 2016.
Abridging of material for audio books, as well as dramatisation for audio which includes Conan Doyle short stories, six of which were also broadcast on the BBC World Service.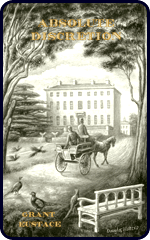 Print
Latest book is A Traveller's Notebook, which explores in a light-hearted way the good and less-good aspects of travel, drawing on a wide range of personal experiences from some sixty countries. It is published through New Generation Publishing. Sequel, A Traveller's Notebook, Too, completed.
Historical novel Absolute Discretion published by Calabash Press, planned as the first of a trilogy.
Articles include subjects as varied as travel and Sherlock Holmes. Essay on Holmes included in anthology book Ladies Ladies: The Women in Sherlock Holmes' Life, published by Aventine Press in 2007.
SAMPLE ARTICLE
Member of the Society of Authors, and former Chairman of its Broadcasting Committee
Links:
www.crimsoncats.co.uk