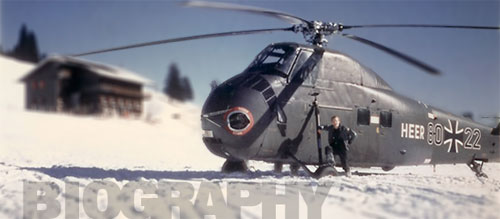 If there is a 'standard' way to become a writer – reading English at university, say, or following some media-related course – this was far from it. The first eleven years of working life were spent as an officer in the Royal Navy, qualifying first as a ship watchkeeper and then specialising as a helicopter pilot.
In those days the Navy was still large enough both to have considerable commitments worldwide and to be able to meet them. So there was variety: stints in fishery protection and mine warfare, as well as both anti-submarine warfare and search-and-rescue in aviation. There was also travel: North America, Africa, Asia, Australasia, as well as Europe from Norway to Malta. The last and longest tour of duty was two years' exchange service with the German Naval Air Arm, the first-ever such position, and in large part down to having qualified four years before as an interpreter in German.



The transition to business life was through a small private company group that undertook mergers and acquisitions, and commodity broking. Within three years it had become clear that experience in uniform had been a better preparation for management than most managers receive. So a second transition was made to management training, along with self-employment. At the same time, writing ­ which had been a hobby since schooldays ­ was pursued professionally.
It proved a reasonable career change. The amount of time spent running management training grew, and writing became commercial with a first radio play. Appropriately enough, Before The Bird Has Flown was concerned with naval aviation, and initially broadcast on BBC Radio 4 on Trafalgar Day, 1978.
The logical step after that seemed to be to bring together the different knowledge and skills of the two areas of business and writing, combining them to become a third strand of activity, corporate communication. The first corporate script has been followed by nearly three hundred and fifty others, often requiring some interesting mental gymnastics as one video on manufacturing insulin is followed by one on ground-based air defence, and then one on internet-based purchasing.
This troika of activities remains in place, even if the dividing lines between them are not always clear. It is, after all, the nature of being freelance to seek advantage from any opportunity that presents itself. So it was only a small step from running communication skills training to writing training, and another to incorporating that content into a book. Reading scripts aloud to a client resulted in speaking the commentary in the finished films. (Another wheel turning full circle ­ that was for an exhibition at the Fleet Air Arm Museum.) A particularly successful radio play took on a second existence as a novel. An attempt to meet a television drama requirement shortly afterwards became a feature film screenplay. And so, presumably, it will continue.
Home remains the South-East of England; the work is international. Corporate projects come in regularly from Sweden, Denmark and Germany, but have taken in other European countries and even on occasion the Philippines, Japan and the United States. The US has also been visited regularly as a result of chairmanship of the British Service Providers Association, whose members collectively provide the services needed by North American companies seeking to expand their business in Europe. Research and interviews for a BBC World Service series required visits to the Netherlands, Germany, Hungary, Dubai and Singapore. Video competition judging has been in the winter snow of Berlin and high summer in Verona, and for fifteen years there was presenting to be done each May at the World Media Festival in Hamburg. Work with first the Tourism and Cultural Identity Committee of the World Trade Centers Association, and latterly World Trade Center TV, has been in twelve countries in Europe, Asia and the Americas. This mix of travel, too, seems set to continue.